Questionnaire & Brief
An email is the best way to contact me and explain in general lines your project, expectations and timeline. I will email you in reply a questionnaire document that will help you gather and organize the information necessary for me to be able to understand the scope of your project. The resulting document is referred to as "the brief" and it should contain information such as: target audience, detailed competitive environment research, desired features for the product and budget available. If you are a start-up: it is highly recommended that you have prior knowledge about business, product management, logistics and marketing before attempting to make profits with a newly designed product. I will be able to guide you through the design process but you will need to provide a business plan, investment funds and product management skills.
Initial Consulting
After I receive your detailed brief (and I sign your NDA if you so wish) I will study the documents and we plan a short meeting (or a call) to discuss the project in more detail.
Proposal, quote and contract
After I gain in-depth knowledge about the specific needs of your project, I will draft a proposal contract for the necessary steps needed and a detailed price/time breakdown estimate. Please understand that it is somewhat difficult to know from the beginning how long a project will take or which exact steps will be needed because you as a client will continuously react to my proposals: you can easily lengthen the process with your ideas, opinions and need for further investigations. A design process is not a linear journey: it involves explorations, options, possibilities (and sometimes dead-ends) but I will try as hard as I can to be as transparent and upfront as possible about the risks and opportunities involved and together reach a successful outcome: a profitable new product introduction.
Step 2: RESEARCH & STRATEGY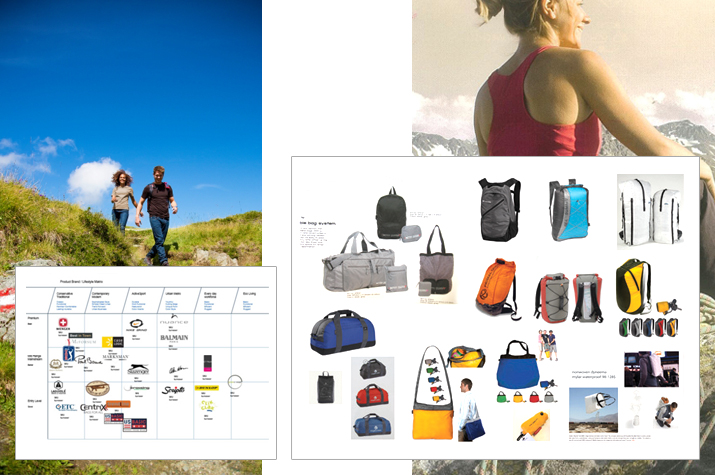 After signing the contract, during our first meeting we discuss the brief in even more detail. The first step for me is to do some extra research in order to identify competitive brands and similar solutions and explore the lifestyle and needs of the user target group.
The research can be organized in mood boards or a presentation if needed and after meeting again the brief and the strategy might need to be adjusted.
The goal of this step is to correctly identify the problem that needs to be solved with the new design.
Step 3: CONCEPT SKETCHES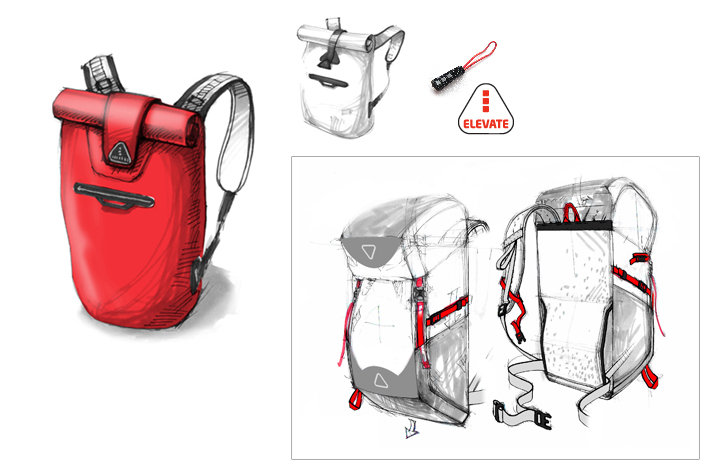 I start working on concept proposals, I do this via sketching by hand on paper with markers and other tools. The goal is to come up with as many solutions as possible in the timeframe given. I explore various styles, shapes and features that can solve the design problem while observing the branding and marketing restrictions.
I analyze the desired features and categorize them into priority levels. I look at interdependencies and how changing elements can affect the looks and cost of the final product and I look at pros and cons of various production methods and materials.
Step 4: BASIC PROTOTYPE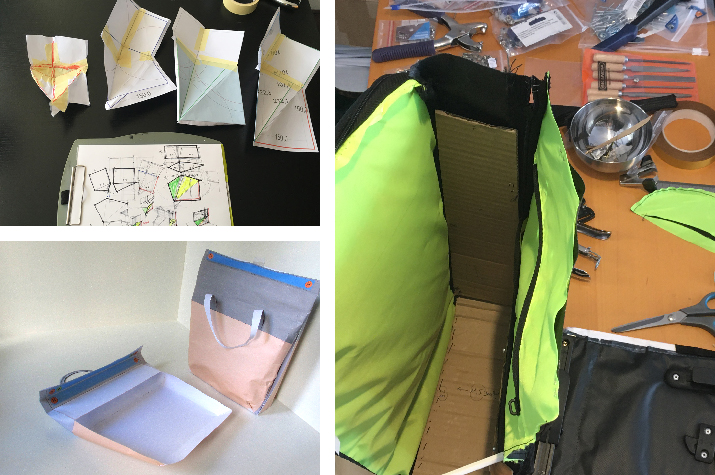 A paper prototype is a very useful step in making decisions about proportions, size, patterns and sequence of assembly. An initial technical drawing needs to be made on the computer, paper patterns are printed, cut and then glued together.
A "Frankenstein" prototype is where existing models of bags are cut into components and assembled together. The end result is similar in shape and function to the desired model. This kind of approach is by no means pretty but it's usually a very useful step to test the basic functionality of a concept.
Step 5: REFINED RENDERINGS
Incorporating the lessons learned by making a prototype I make refined visuals that further explain the concept.
This kind of drawings are made using computer programs whereby texture, colors and shading are integrated and can be switched around to produce various photorealistic effects.
This stage also clarifies the details of the model, all the features, parts and components. Sometimes more than one view or exploded views are necessary to explain the design in detail.
Step 6: TECH PACK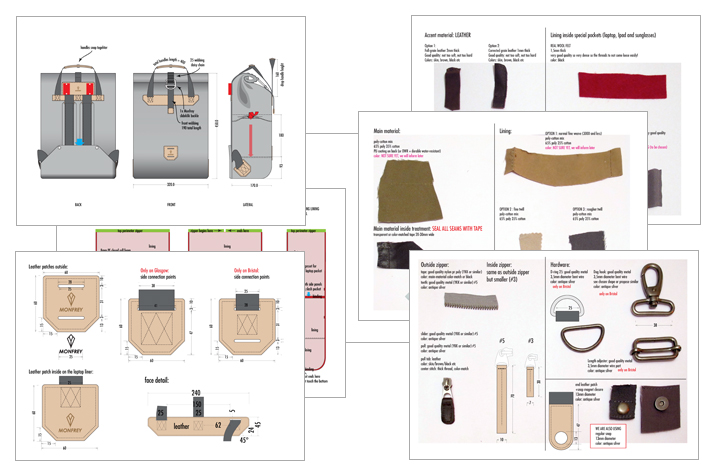 In order for me or the factory to build the next prototype, a document is needed with all the parameters specified in detail:
– dimensions and descriptions of all the parts: front, sides, back, bottom, interior panels, pockets and features
– actual unfolded/flat patterns
– reinforcements and build sequence
– specifications for fabrics including type, weight, thickness and color
– itemized descriptions of components, trims, accessories and hardware
– descriptions of moving parts and transforming features
– construction cross-section views and exploded views.
Step 7: COMPLEX PROTOTYPE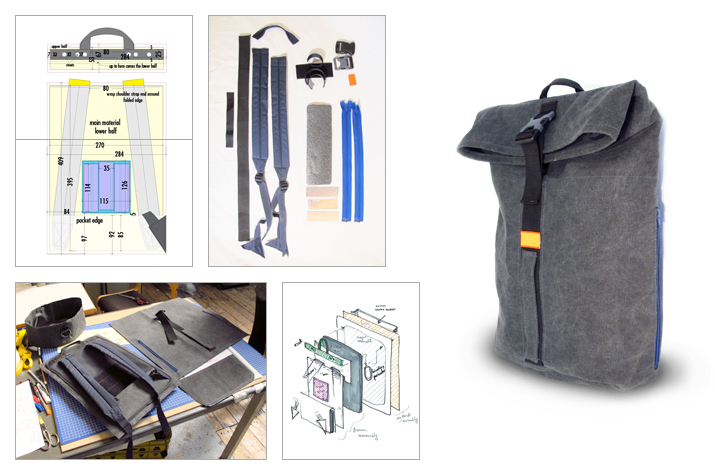 This prototype is usually made by a factory (in China) because it is cheaper than making this locally in Europe. The added benefit is that the factory can also give an estimate quote after completing the sample.
If I make the prototype I follow certain steps: First I need to buy all the fabrics, hardware and trims. Then the patterns are printed on paper and these paper patterns are in turn used to cut the pieces of fabric. These pieces form assemblies that also receive pockets, zippers and other features. In the end all the assemblies are sewn together to form the final bag.
Step 8: REVISIONS AND DEVELOPMENT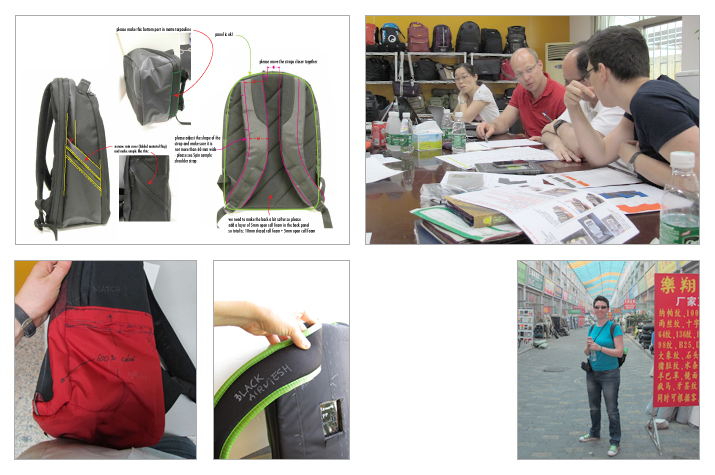 The sample that comes from China or the prototype I make is reviewed and tested. Usually there are changes and improvements needed, this is normal. As many end-users as possible should be asked for feedback and all these comments should be clearly communicated to the factory so they can make a pre-production sample and give a revised quote. A very useful step at this point is to travel to the factory and discuss all the details with the factory engineers. Usually two or even three rounds of revisions are necessary to get the desired set of features/fabrics at the chosen target price, negotiations are crucial.
EXTRAS: 3D MODELLING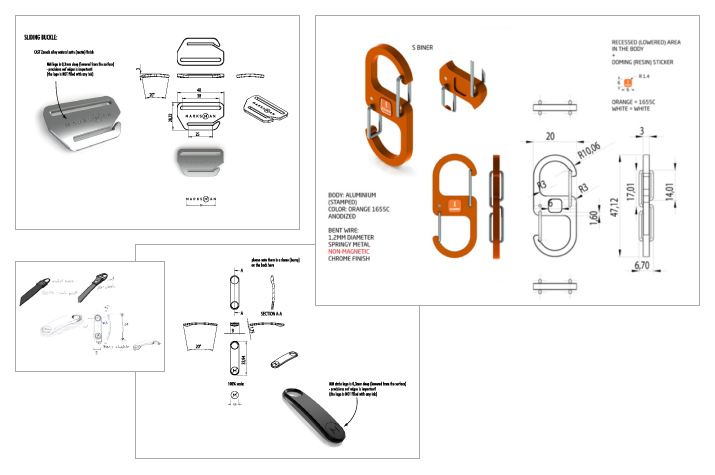 I use a special program to build a 3D model that is technically accurate and fully dimensioned. This is very useful when designing parts that need to be molded: like a zipper of a closure or a custom EVA bag panel.
I can then make pictures (renderings) of this virtual product and I can also extract 2D technical drawings (dimensioned views). 3D modelling can take many hours to complete, especially if complex geometry is required (organic, asymmetric, many parts).
EXTRAS: 2D GRAPHICS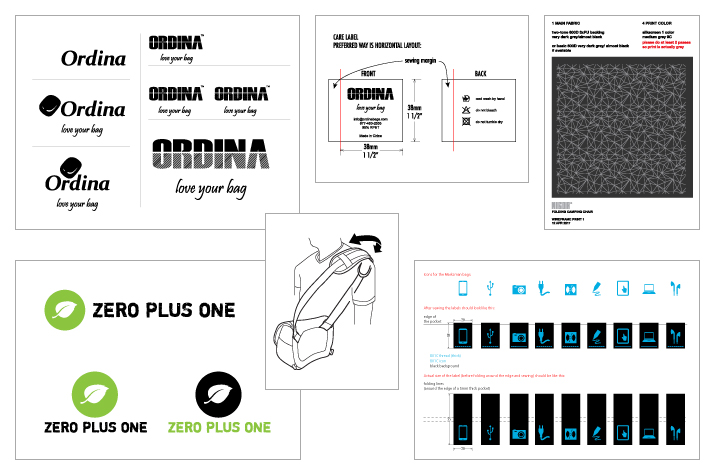 I can design logos, brand manuals, icons sets, layouts, complex diagrams, labels, visual explanations. Also I can design prints, graphic motifs, step-repeat patterns and illustrations. This type of 2D artwork is called "vector artwork" and is based on mathematical formulas, these type of artwork can be scaled from very small to very big without losing quality. Precise artwork is usually required for silkscreening, debossing, embroidery or other industrial processes.