The brief: Schwan Cosmetics, the leading private label manufacturer of cosmetic pencils wanted to introduce a new cosmetic texture called "Surprise", which undergoes a metamorphosis from a liquid product into a powder. This products gets applied to various parts of the face using a double-ended tool, the request was to re-imagine the cosmetic applicator/spreader and re-design this part of the packaging (the bottle part was already designed).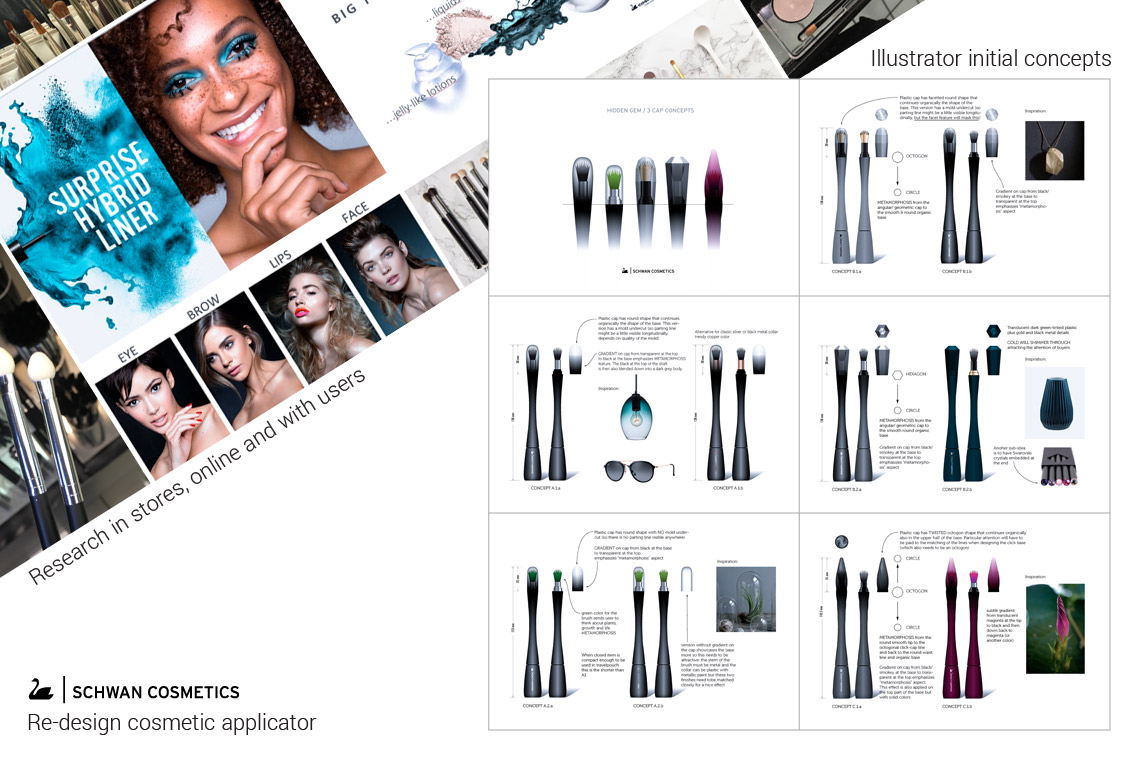 The process: After extensive research in the field and studying the user needs from various angles I combined these findings with previous knowledge from fashion and design trends as well as natural forms to come up with a few interesting ideas.
The result: concepts that are not only functional and help with the application of the transforming powder in various innovative ways but also enhance the aesthetic experience of the overall packaging and increase brand awareness.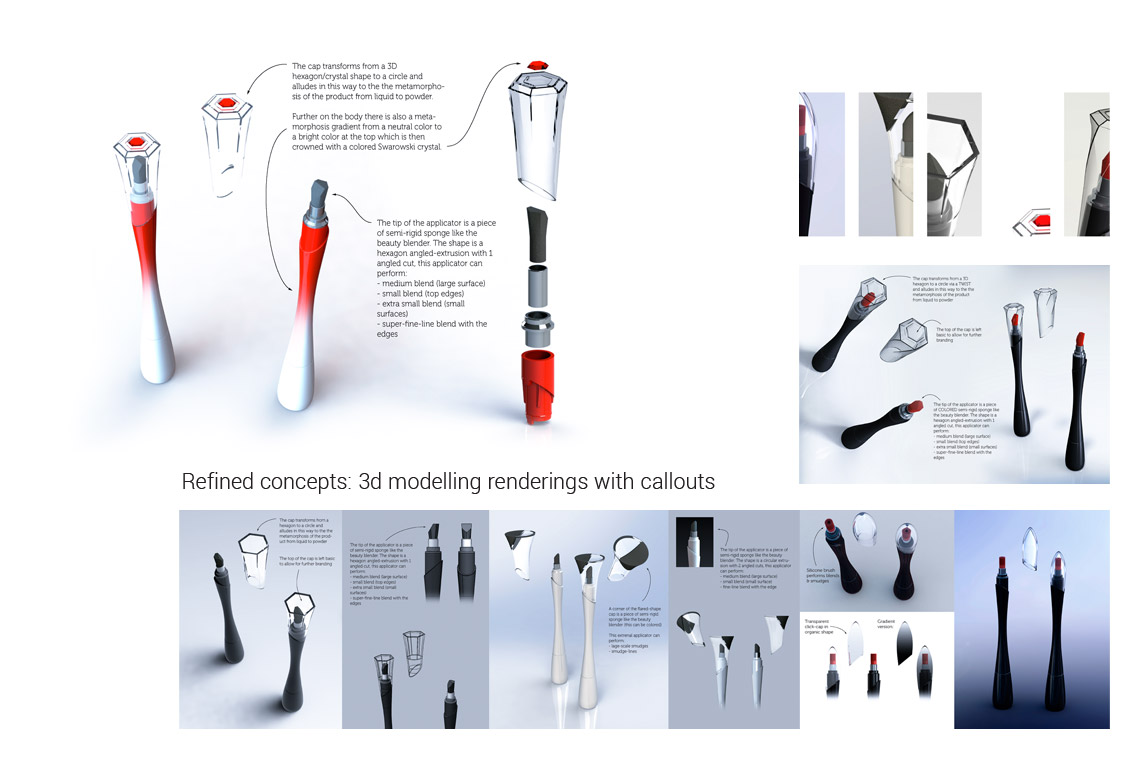 Brief: My client XL Concept asked me to redesign a travel packaging that should be suitable for all Gillette razors.
Process & result: I measured the dimensions of the various sizes of razors, spare blades, I studied user behavior when traveling with razors and grooming items and took into consideration existing designs. A series of concepts was proposed that was both practical and in-line with the fresh, sporty and aerodynamic brand aesthetics.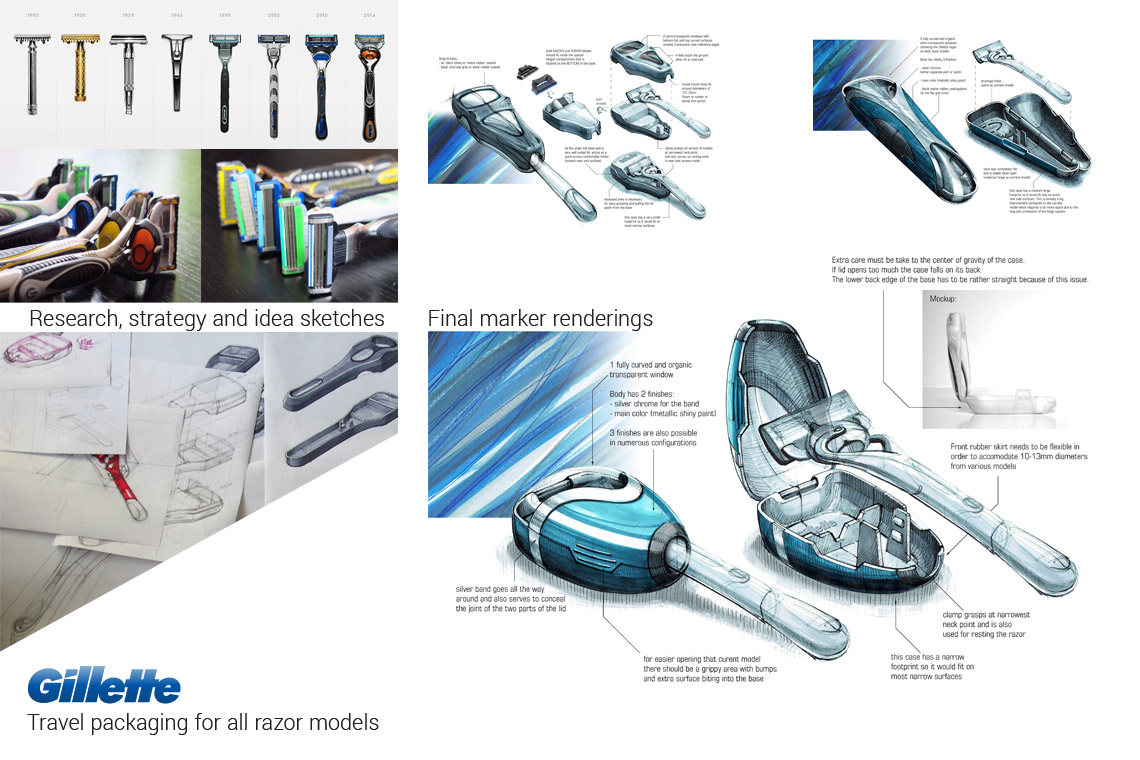 Brief: Also for XL Concept as part of the same Gillette project I was asked to design a toiletry pouch.
Process & result: After studying the behavior of men when traveling with their razor and other toiletries we chose to explore a concept that would take minimal space a surface and offer the possibility to be also hung. A balance had to be found between the clean and masculine look desired, the materials chosen and a competitive price.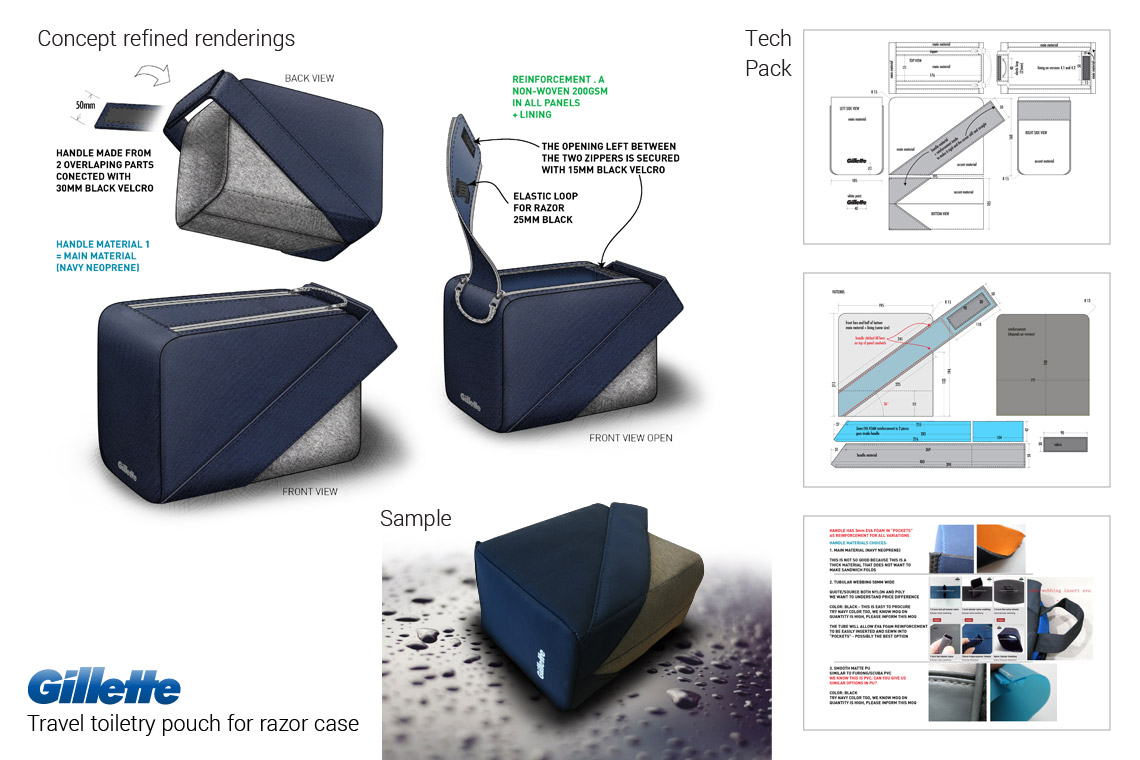 Brief: As part of my job at PF Concept I was asked to design various packaging concepts that would promote the idea of sustainability. All of these products would serve as promotional materials for other companies.
Process & result: I selected natural materials such as FSC wood and recycled cardboard to come up with packaging ideas for products such as cutting boards and games but re-framed in a more Eco-conscious manner.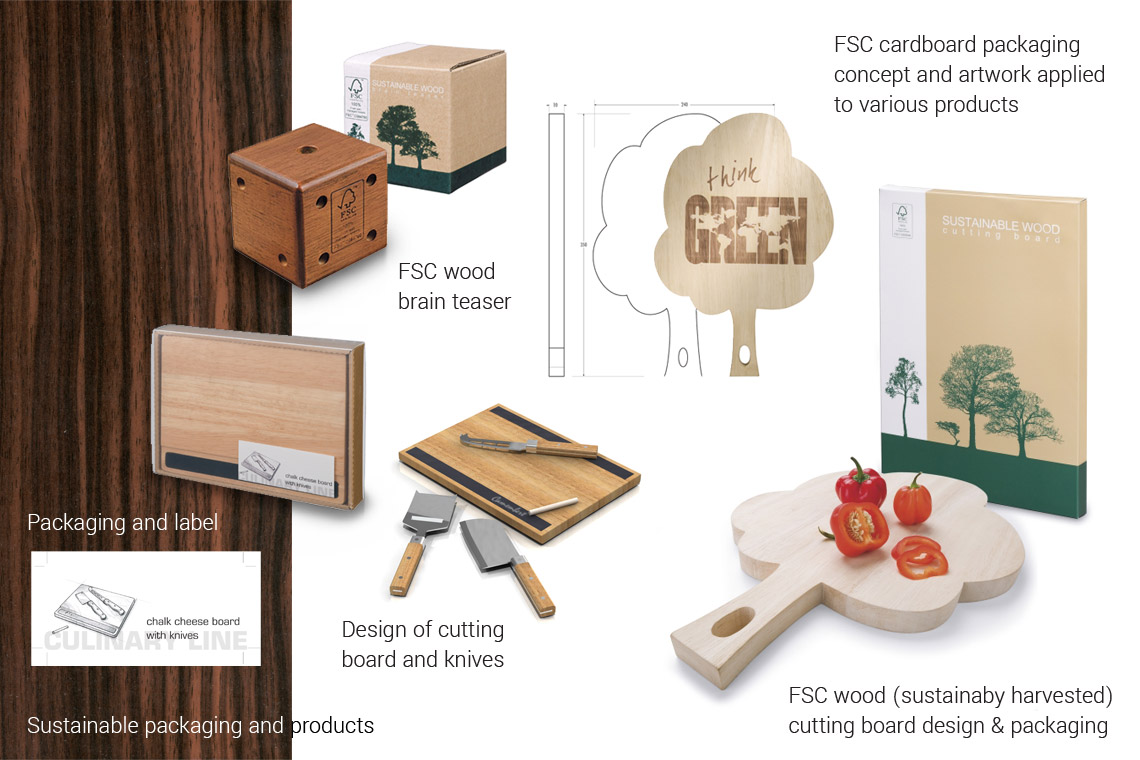 Brief: Design promotional product sets and gift ideas with an eco-friendly message.
Process & result: Together with the category manager we looked at sourced items and how we can best combine them in sets that makes sense. After we figured out 3 ideas I designed some of the contents and the packaging concept, size, shape, materials, colors, raster and vector artwork, die-cuts, manual text, icons and graphics.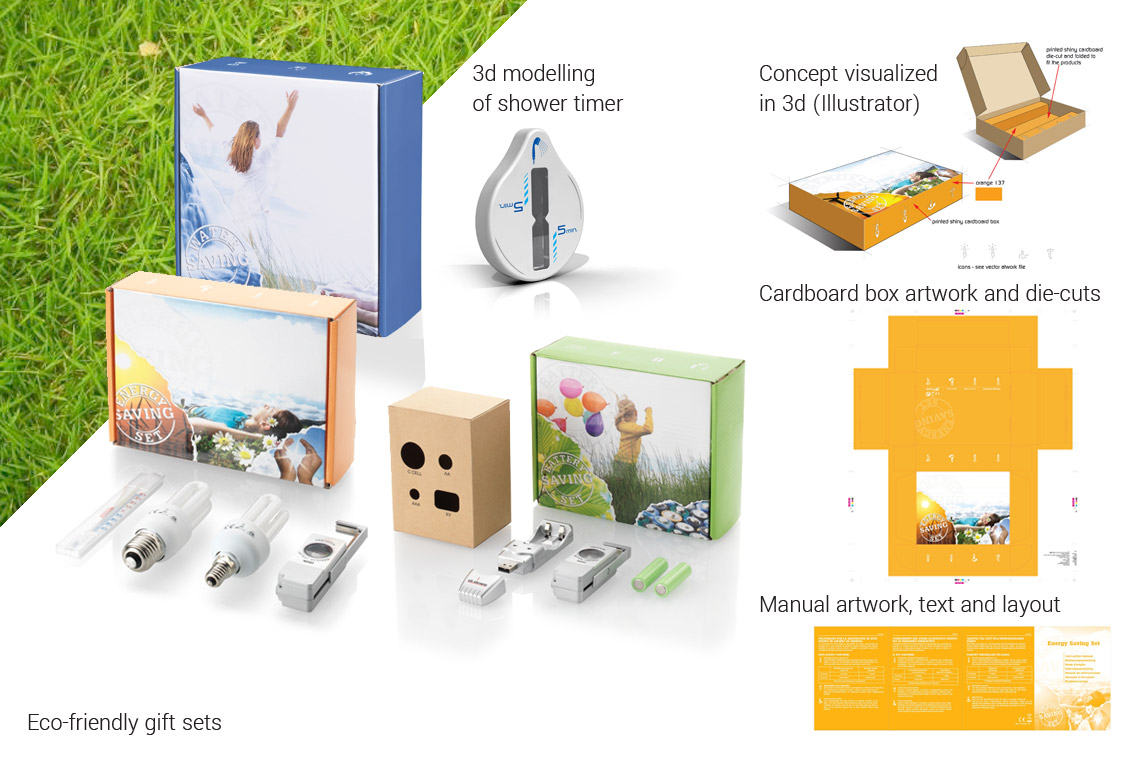 Brief: Design products and packaging concepts that utilize sustainable materials.
Process & result: I studied the best-sellers of PF Concept and re-designed these with new Eco-friendly materials such as recycled cardboard, wood, PLA (biodegradable plastic), RPET (recycled polyester) and other various non-plastic materials that are either recycled or bio-degradable. All products are meant to be imprinted with a company logo.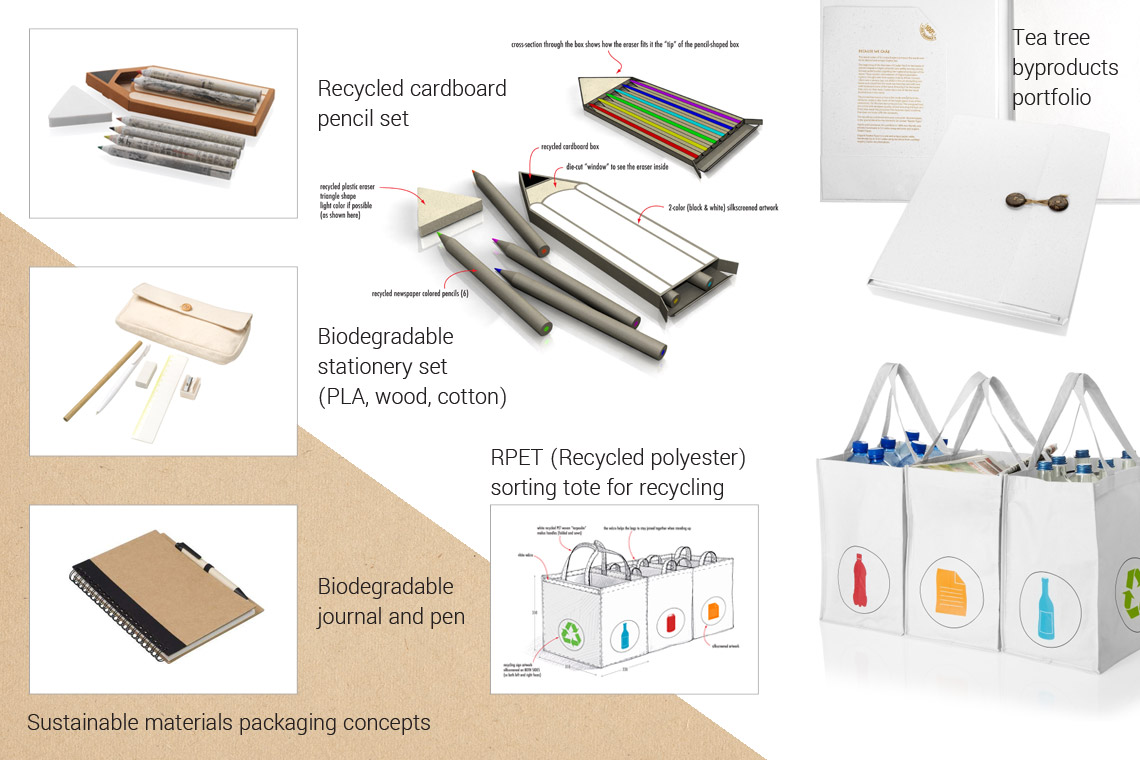 Brief: For my former employer PF Concept I designed a packaging concept that would utilize the same box for various combinations of themed items.
Process & result: We selected various small items for various themes, I then designed a plastic container in 3d and designed the labels for each set. The design process included a 3d-printed prototype and usability tests.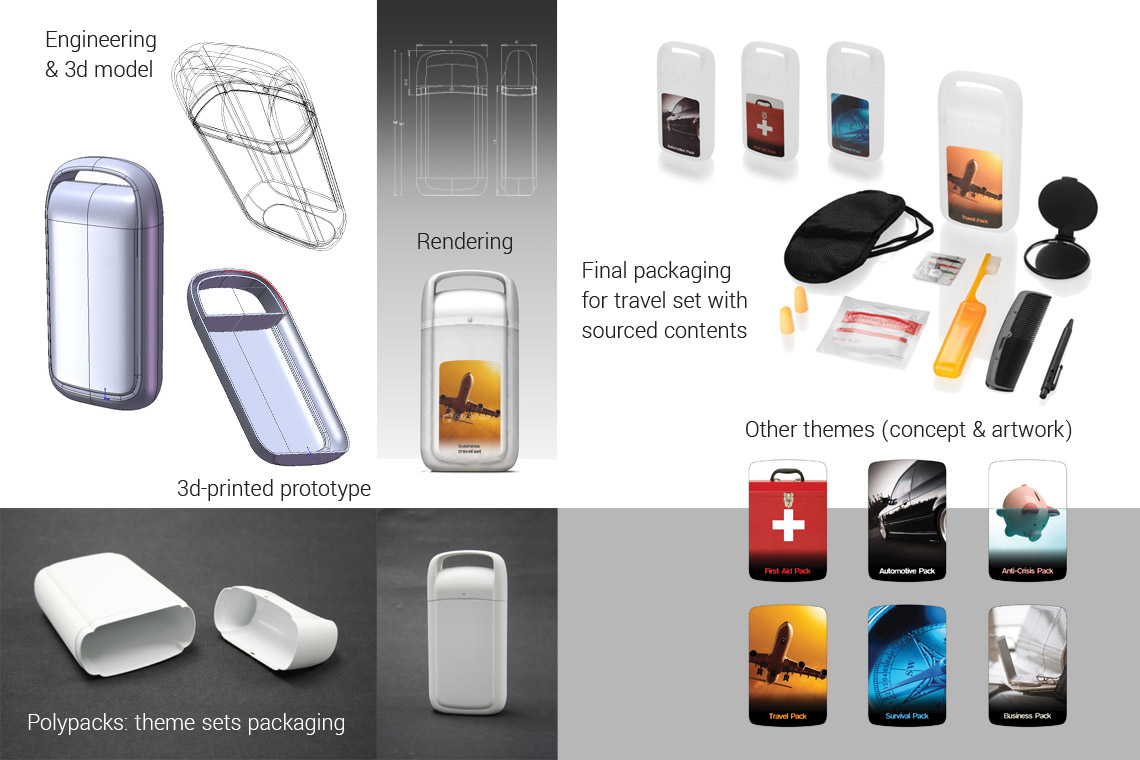 Brief: Design a personal care set for the brand Orient Express (part of PF Concept's portfolio of brands).
Process & result: Inspired form high-fashion and exquisite black and white combinations of fabrics we carefully selected containers from suppliers and modified these to fit our design intent. The cardboard box packaging speaks of luxury and quality and the label graphics are carefully designed.